Samson has been dropped from the second and third T20I squad to make way for members of the senior team.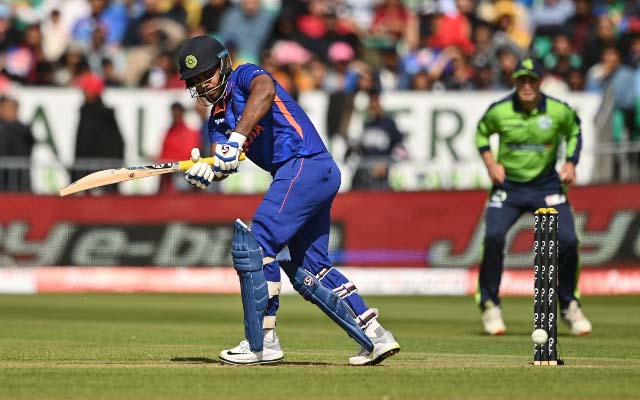 The Board of Control for Cricket in India (BCCI), on Thursday (June 30), announced India's squads for the upcoming ODI and T20I series against England, and it got the cricketing world talking. Two sets of squads have been named for the T20I series, one for the first T20I, and the other for the second and third T20Is.
While the squad is a strong one and many deserving players have been given an opportunity, there are some prominent exclusions from the second sets of squad, and one important player who has faced the ax is Sanju Samson. The prolific batter, who showcased brilliance with the bat during the recently concluded Ireland series has been named for the first T20I squad, but not in the second and third.
Alongside Samson, Ruturaj Gaikwad, Rahul Tripathi, Venkatesh Iyer, and Arshdeep Singh have been dropped for the second and third T20I while all five are a part of the first game. Gaikwad did not bat in the Ireland series and was not much impressive in the South Africa series either. Tripathi and Arshdeep are yet to make their international debut while Venkatesh has been in and out of the combination.
While the exclusion of the other four gives a clear explanation as they made way for the senior players, Samson's ouster came as a shock to many. He was not a part of the combination for the first T20I against Ireland but made his way as the opener of the side for the second game after Gaikwad suffered a niggle to his calf.
Sanju Samson's career-best performance found him a place for just one game
Samson lost his opening partner Ishan Kishan early but formed a terrific 176-run partnership with Deepak Hooda, as he unleashed the beast within and scored a career-best 77 on what was his comeback in the national team. Samson was pretty impressive in IPL 2022 as well, but due to some or the other reason, missed out on making it to the main team.
Now that he is in good form, keeping him out of the game didn't go down well with the netizens. The cheer that he received from the fans in Ireland during the series when skipper Hardik Pandya announced his entry into the team proved how much he is liked and loved by the Indian fans all over the world. Thus, Twitter got talking after knowing about his exclusion from the two T20Is.
Here's how netizens reacted to India's squad selection:
This is a clear indication that #SanjuSamson won't be a part of T20 WC squad. If you are wondering why his fan base is growing day by day, it is because masses stay by the deserving underdog. #JusticeForSanjuSamson #bcci CCBCCI

– Rigor_untamed (andeepSandeepAsok) June 30, 2022
#sanjusamson
Knowing CCBCCI sanju won't get an opportunity in that first T20 too.
They will stick with kishan and then Rohit will open along with him. It's just so unfair that players like gaekwad got a full 5 match series to prove their worth and sanju hasn't

– Pranav Manoj (@ PranavM29246703) June 30, 2022
Jacob Martin, Tinu Yohannan, Sheldon Jackson, Robin Uthappa and now Sanju Samson. Coincidence?
Being South Indian is not the concern, there's something bigger here. If the Indian teams represents all Indians, BCCI has to look into it.#JusticeForSanjuSamson CCBCCI IamSanjuSamson

– Joel John (joel_john98) June 30, 2022
IamSanjuSamson
Brother i want to see you playing for India for long time, your are a classic player like Kohli.
Show selectors that they want to see, Focus on score for some time and get your place in Indian team.

– Gajendra Singh (je Gajendr23226699) June 30, 2022
Seriously sick of seeing pant given tons of chances and even seeing future Indian leadership in him. Even a common man can see he being so much overrated and ruining chances for deserving players like Sanju Samson. You give sanju half the chances I have to pant and then watch.

– Babaraj Keepers (abBabarajKeepers) July 1, 2022
BCCI Favoritism Playing Everywhere But A Talented Player is Finding his Spot What A Shame On BCCI ..Why BCCI you are hiding his amazing talent why you make his Dinesh Karthik ?? 3 #SanjuSamson

– Ayush Tiwari (theworldofayush) July 1, 2022
Bcci doesn't loose a single chance to play politics, although sanju had scored 77 runs which wasmore than ishan scored in both t20i against Ireland, still ishan and Surya got preference over sanju in t20i and odi. Get chance for 1st t20i… ..#BCCI #sanjusamson #INDvsENG

– RAVAN GAMING (@ RAVANGA13364753) July 1, 2022
Experimenting bench strength is one thing, but this is pure chaos management !! Literally telling players that even if you hit a 100 in the first game, you will not play in the 2nd. Shame on CCBCCI. irbishi hobhogleharsha cricketaakash #sanjusamson #RohitSharma #ViratKohli #RahulDravid pic.twitter.com/uvSDCUCxbT

– self-healer (@ TheMovieMan9) July 1, 2022
CCBCCI this is so unfair. IamSanjuSamson scored elegant 77 but still misses out for 2nd and 3rd T20 against England for useless Pant !! How many more chances will u give him but not Sanju ??
Clearly politics is ruining the most talented cricketer. #INDvsENG # T20squad#WeWantSanju

– mudit mathur (udmudyt) July 1, 2022
#SanjuSamson
I think bcci including Sanju bcz they want to sell tickets
Cricket is just business nowadays.

– karun sabu (karun_sabu) July 1, 2022
Nice just one match for Sanju even After showing him what he is Capable of? !!! Probably you'll not value him even if he scored a Century would you'll? !!#SanjuSamson

– Zuha (ZuhaUsman) July 1, 2022
its all about money and some recommendation #BCCI #SanjuSamson

– shani_shamnas (shanishamnas) July 1, 2022
Don't give chance in the first T20 may be he will score big.
Just give the drink bottles to him for serving.
One day you can't avoid him the day will arrive sure👍#BCCI
Feel very sad for Sanju You are a Gem 💎 but they are looking for gold
Be confident Man #SanjuSamson pic.twitter.com/irFwvUL4pS

– 🅽🅰🆁🅰🆈🅰🅽🅰🅽 (@ AjithNa49153322) July 1, 2022
Why are they doing this to sanju..pant doing nothing more than sanju in limited overs. They made him captain to hide his low scores..bcci is playing politics and cricket is not the place for that. #SanjuSamson #JusticeForSanjuSamson

– dascricZ (udproudindianizme) July 1, 2022
IamSanjuSamson by distance is a far better batter, far better keeper far better fielder than Pant .. there is absolutely no comparison.

– Kartikeya (rmrkartikeya_) July 1, 2022
Dear CCBCCI
If the selection is bein done based on IPl performance than pls observe that player for 2-3 IPl seasons not take immediately to International Cricket. Bcoz we missed so many pure tallent and Well deserved players.1 / 2#BCCI #SanjuSamson #arshdeepsingh

– CrickInfo (IFCIFPCrickt) July 1, 2022
Sometimes I feel for Sanju
This bcci don't give him fair chance and than they give him inconsistent tag
Totally injustice with him
Not only for me he is one of the best shorter format batsman at present#SanjuSamson #INDvsENG pic.twitter.com/4cGZDah9I0

– LAXMAN SINGH RATHORE (x laxman_vk18) June 30, 2022