Veteran England National Cricket Team pacer Stuart Broad bowled a 35-run over against India National Cricket Team captain Jasprit Bumrah in the Edgbaston Test match on Saturday, July 2.
The 5th and last Test match of the series between Jasprit Bumrah-led India and Ben Stokes-led England, which was canceled last year due to the Covid-19 scare at the Indian camp, is being played at the Edgbaston, Birmingham.
ICC Teams Rankings | ICC Players Rankings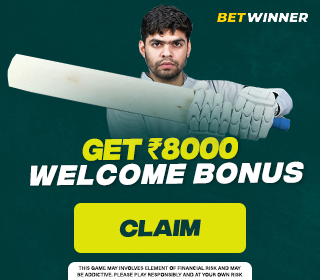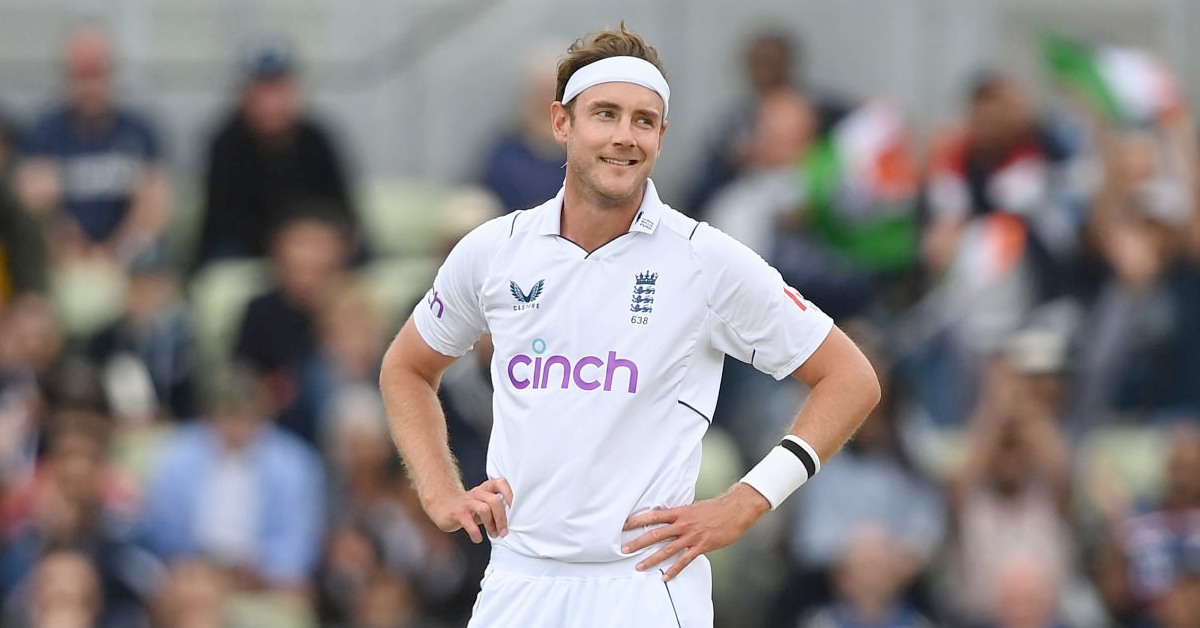 On Day 2 of the Test match, something unbelievable happened as veteran pacer Stuart Broad conceded 35 runs against India captain Jasprit Bumrah in the 84th over of the match, as a result, India managed to go past the score of 400 runs.
Broad had decided to bowl short-length deliveries to India captain Bumrah and it backfired as Bumrah hooked each and every delivery and somehow he was able to send the ball past the boundary rope.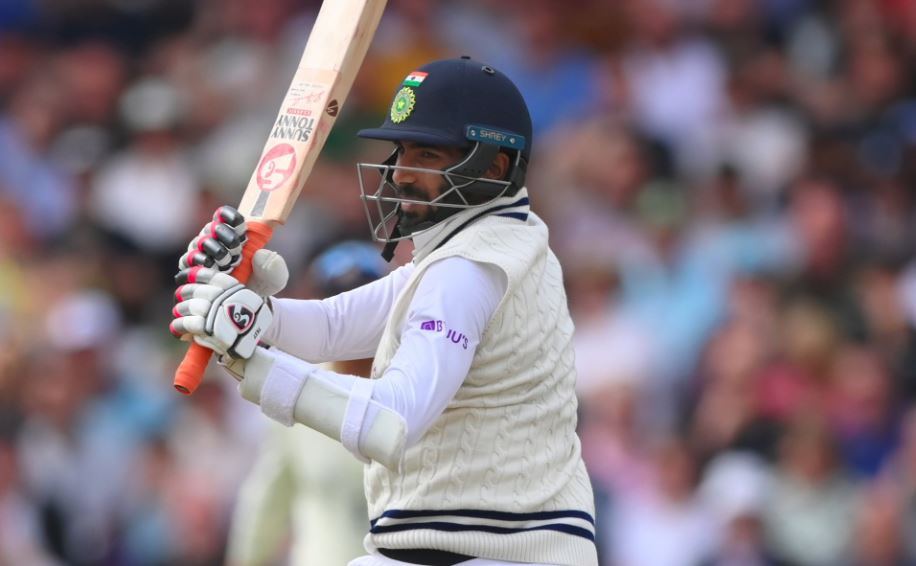 The 35-run over bowled by the England pacer is the most expensive over in the history of Test cricket, breaking the previous record of 28 runs conceded by R Peterson, James Anderson, and Joe Root on different occasions.
Meanwhile, Stuart Broad now holds the record for conceding most runs in an over in both Test and T20I cricket as he got smashed by legendary India all-rounder Yuvraj Singh for six sixes in a T20I game in 2007 in Durban.
Most runs off an over in Test cricket:
35 J Bumrah off S Broad Birmingham 2022 *
28 B Lara off R Peterson Johannesburg 2003
28 G Bailey off J Anderson Perth 2013
28 K Maharaj off J Root Port Elizabeth 2020
With the help of Bumrah's 31-run cameo knock and Rishabh Pant and Ravindra Jadeja's exceptional centuries, India were able to post 416/10 on the board in the first innings.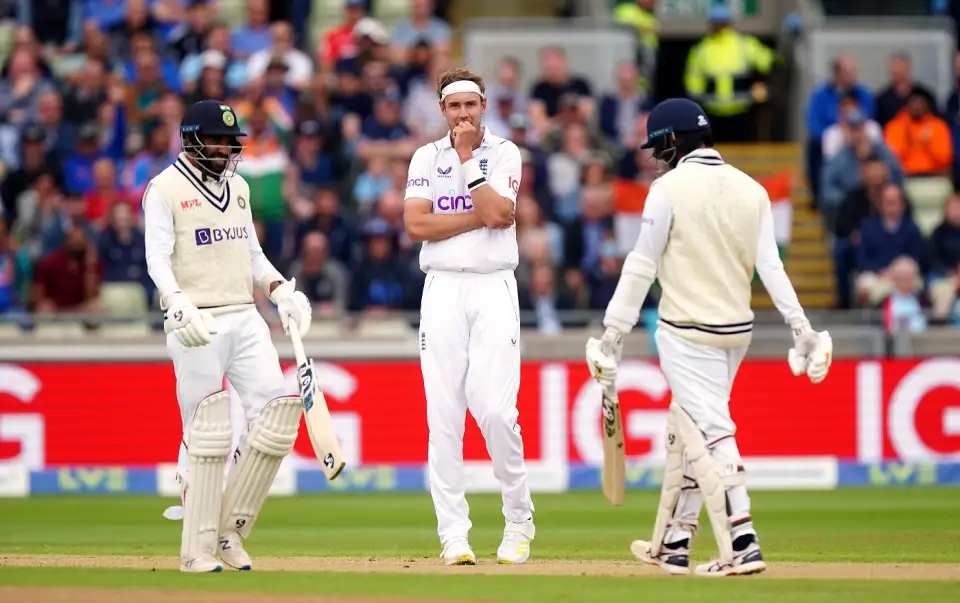 Here's How Twitter Reacted To Jasprit Bumrah Smashing Stuart Broad For 35 Runs:
Kya yeh Yuvi hai ya Bumrah !?

Remembering 2007 ..YUVSTRONG12 Jaspritbumrah93 #ENGvIND pic.twitter.com/vv9rvrrO6K

– Sachin Tendulkar (sachin_rt) July 2, 2022
You can't be serious. 35 runs of that over, most of it courtesy Jasprit Bumrah😳😳.

– Ian Raphael Bishop (@irbishi) July 2, 2022
Test cricket is going bonkers .. Now Jaspritbumrah93 strikes someone with 550 Test wickets for 35 in an over .. #ENGvIND

– Michael Vaughan (icMichaelVaughan) July 2, 2022
Just when you think you can't become a bigger Bumrah fan, Bumrah does something like this and you become a bigger fan.

Just amazing stuff this!

– Gurkirat Singh Gill (gurkiratsgill) July 2, 2022
This planet is billions of years old and I was alive when Jasprit Bumrah, in his first Test match as captain, set a new world record before bowling a single ball.

– Abhishek Mukherjee (@ ovshake42) July 2, 2022
15 years after t20is most expensive over Broad now holds the same record in Tests !! #INDvsENG

– Gaurav Sundararaman (gaurav_sundar) July 2, 2022
Please have Baz call up Stuart Broad for ODI cricket and at least give him the chance to complete the set #ENGvIND

– Danyal Rasool (@ Danny61000) July 2, 2022
Remove your 'Jasprit Bumrah' mask and show us your face, Yuvraj Singh.

– Silly Point (arFarziCricketer) July 2, 2022
The greatest over in Test cricket.

– Silly Point (arFarziCricketer) July 2, 2022
The greatest over in Test cricket.

– Silly Point (arFarziCricketer) July 2, 2022
Bumrahhhh bhenchoddddd

Stuart Broad remembers Yuvraj's bcccc

– HH12 (@ Hip_hop_india12) July 2, 2022
A New World Record: Jasprit Bumrah takes 35 runs off an over from Stuart Broad – THE MOST EXPENSIVE OVER IN TEST HISTORY! #EngvInd

– Mazher Arshad (azMazherArshad) July 2, 2022
Stuart Broad now has the world record for conceding most runs in an over in both Tests and T20Is.

35 runs vs Bumrah Edgbaston 2022
36 runs vs Yuvraj Durban 2007#ENGvIND

– Deepu Narayanan (@deeputalks) July 2, 2022
Eng: Indian total won't be that high.
Meanwhile Indian total: #ENGvIND pic.twitter.com/hdr3pMEbUT

– Wasim Jaffer (im WasimJaffer14) July 2, 2022
34 runs from just 5 balls off Broad over.

– Johns. (RicCricCrazyJohns) July 2, 2022
Mohammed Siraj laughing uncontrollably after Bumrah's boundaries was every Indian cricket fan. 3

– Silly Point (arFarziCricketer) July 2, 2022
Stuart Broad's worst nightmare#ENGvIND #BharatArmy pic.twitter.com/BgB1X9WKfp

– The Bharat Army (thebharatarmy) July 2, 2022
Unreal stuff. Broad holds the record for most runs conceded in a T20i, and FIFTEEN years later, he holds the same record in Tests. Thanks to 8 down Bumrah. 3

– Sonali (m samtanisonali1) July 2, 2022
Excellent cricket from Bumrah. Knew it was going to be a yorker, dug it out well, ran immediately. What a God.

– Himanish Ganjoo (gan hganjoo153) July 2, 2022
When Jasprit Bumrah teaches you the real Bazzball. pic.twitter.com/0LRNW3ImfS

– Mufaddal Vohra (mufaddal_vohra) July 2, 2022
BOOM 💥 What play, captain saab! Jaspritbumrah93 Kamaal karta. 35 runs off Broad's over in a Test match!#INDvENG

– Harbhajan Turbanator (harbhajan_singh) July 2, 2022
Unreal batting from Jaspritbumrah93. Thoroughly enjoyed watching it #ENGvIND

– S.Badrinath (s_badrinath) July 2, 2022
Old habits die hard? 3

#EngvsInd pic.twitter.com/U1YlQsi4i2

– Amit Mishra (isMishiAmit) July 2, 2022
35 runs in an over! Boom boom Bumrah on fire todayJaspritbumrah93
Century of the highest caliber by imjadeja, unreal fight back! Solid Game Jaddu #INDvENG 3

– Suresh Raina🇮🇳 (@ImRaina) July 2, 2022
Sad to lose my record today 😜 oh well, records are made to be broken I guess. Onto the next one #ENGvIND

– Robin John Peterson (@ robbie13flair) July 2, 2022
Also Read: ENG vs IND: Wasim Jaffer Says Rishabh Pant, Ravindra Jadeja Frustrated England Just Like Mitchell-Blundell Pair Did In ENG vs NZ Test Series
Get All Cricket match prediction and fantasy Tips – CLICK HERE
Cricket Match Prediction | T20 World Cup Match Prediction | Today Match Fantasy Prediction | Fantasy Cricket Tips | Cricket News and Updates | Cricket Live Score