This article contains spoilers for Jurassic World Dominion.
Jurassic World Dominion's pseudo-science has a lot of flaws that depart from realism or accuracy. The Jurassic Park The franchise has never exactly been praised for its scientific accuracy. Even its core concept – the idea dinosaur DNA could be preserved in amber in the first place – is something of a stretch; the preserving properties of amber have limits, and any DNA contained within amber for 65 million years would have inevitably degraded.
To be fair, this kind of scientific inaccuracy is perfectly understandable; these are films, not scientific treatises. The films have always tried to get around these problems as much as possible, hand-waving them away with an element of pseudoscience; so, for example, in Jurassic Park scientists filled in gaps in dinosaur DNA with DNA from modern animals, such as frogs, unwittingly introducing an element of asexual reproduction to the creatures. There's a sense in which the dinosaurs of Jurassic World are actually entirely new species, then, different to anything that lived 65 million years ago.
Related: Jurassic World Dominion Confirms Lost World & Jurassic Park 3 Are Canon
But Jurassic World Dominion takes the pseudoscience in a totally new direction, exploring themes such as human cloning and further advancements in genetic engineering. Some of these elements are rather surprising; viewers would never have had predicted a locust infestation. But many elements of Jurassic World Dominion move even further away from the scientific base.
Dinosaurs Finally Have Feathers In Jurassic World Dominion
Trailers for Jurassic World Dominion teased the first major change, and it's actually one with an actual scientific basis. For the first time, some of the dinosaurs in Jurassic World Dominion have feathers. Many scientists had believed this was true even before the first Jurassic Park film was released, and they criticized Spielberg's classic movie for omitting them. Evidence of feathered dinosaurs has increased over the years, and it's great to see Jurassic World Dominion Finally acknowledge this with the inclusion of multiple feathered dinosaurs in the movie.
Maisie's Human Cloning & Genetic Editing Explained
The real advancements in Jurassic World Dominion are found in human cloning and genetic engineering. Maisie was introduced as the first human clone in Jurassic World: Fallen Kingdom, but real-world science is a long way away from this kind of breakthrough. Although it is not difficult to clone a human embryo, it is difficult to safely implant a cloned fetus. Many embryos expire before they can be safely implanted, some result in miscarriages, and the ones that make it to term tend not to possess notable birth defects and are not long-lived. These are the kind of risks scientists are happier to take with sheep than they are with people, and they mean there won't be any human clones like Maisie anytime soon.
Maisie would not, however, be an identical clone. There would be variations in genetic recombination within the womb; The combination of sperm and egg is different every time. Prenatal conditions would affect development (such as the parent's stress, diet, and physical exercise). There's even an epigenetic component, meaning Maisie's body would have grown in a different way based on the environment she grew up in. This means it would have been more scientifically accurate for Jurassic World Dominion to cast another actress to play Charlotte in recordings, one who is similar to Maisie in appearance but not identical. Instead, Isabella Sermon plays both, meaning she gets to double-up as two members of Jurassic World Dominion's cast.
Related: Jurassic World Dominion Wastes A Key Part Of The Original Movie
Jurassic World Dominion reveals Charlotte Lockwood, also conducted sophisticated genetic editing upon Maisie. This is because Charlotte did not die in a car accident at all; rather, she died from a debilitating genetic condition, one she managed to edit out of Maisie. Scientists have been able to alter DNA since the 1970s, but it's easiest to do in embryo stage – and Jurassic World Dominion seemed to suggest Charlotte's experiments were being conducted on Maisie after birth. Still, in 2020 there was indeed a single apparently-successful experiment to use gene editing on an adult human, with hopes it would ultimately restore a person's sight; there is, therefore, a precedent for Charlotte's technology.
Could Blue Have Given Birth By Herself In Jurassic World Dominion?
Owen's pet velociraptor, Blue, has a smaller role in Jurassic World Dominion than previous instalments – but an important one nonetheless. It seems Blue has had a baby, which everyone believed to be impossible – with the exception of Dr. Henry Wu, who apparently predicted it somehow. This is theoretically possible among lizards, through a process called parthenogenesis in which young can be produced from unfertilized eggs when no mate is available for a protracted period. While parthenogenesis is uncommon among species related to dinosaurs in evolutionary terms such as birds – eggs produced through parthenogenesis rarely hatch – gaps in the dinosaurs' DNA were filled with other species, potentially making parthenogenesis more likely. As Ian Malcolm put it when referring to a different process of dinosaur reproduction in Jurassic Park"Life finds a way."
Jurassic World Dominion's Locusts Are Theoretically Possible
Surprisingly, as Jurassic World Dominion moves towards its ending it becomes clear the plot is all about locusts. Specifically, a species of giant mutant locusts created by BioSyn when they combined Cretaceous-Era genes with modern locusts and created a super-species that threatened to cause an ecological crisis. Scientists are indeed now able to create new species through genetic editing, and in fact experiments have been conducted on insects – specifically on fruit flies.
Jurassic World Dominion takes this idea one step further, with the concept of "gene drives."This is a process in which modified genes are designed to spread through a population and override natural selection, and one scientist – Dr. Henry Wu – is able to create a modified locust that will bring the rest under control. Presumably his process is similar. to the real-world experiments on fruit flies, where the new species of insects were designed to interbreed with other creatures in the wild that carry specific diseases, and their offspring are unable to breed – essentially guaranteeing eventual extinction. a single altered locust to cause an extinction-level-event at speed, however, especially given the locusts have apparently spread across the globe. As is so often the case with Jurassic World Dominionthe pseudoscience goes only so far.
Related: Where Was Jurassic World Dominion Filmed? Filming Locations Explained
Dinosaurs Trained As Attack Weapons In Jurassic World Dominion
Jurassic World Dominion introduces the Atrociraptor, a species from the Late Cretaceous who have been trained as attack weapons. This is a logical extension of Jurassic World's trained raptors such as Blue, and the idea was further developed in Jurassic World: Fallen Kingdom with the Indoraptor. Ironically, although some paleontologists believe it would indeed be possible to train raptors in this way, it probably would not be as effective with the Atrociraptor. Only a few fossil fragments of this dinosaur have been found, and it was initially misidentified as a raptor but has now been given another classification. Unlike raptors, it's believed to have been a solitary hunter rather than a pack animal, so different training methods would have been needed – even if it could have been trained.
Could Dinosaurs Coexist With Humans As In Jurassic World Dominion?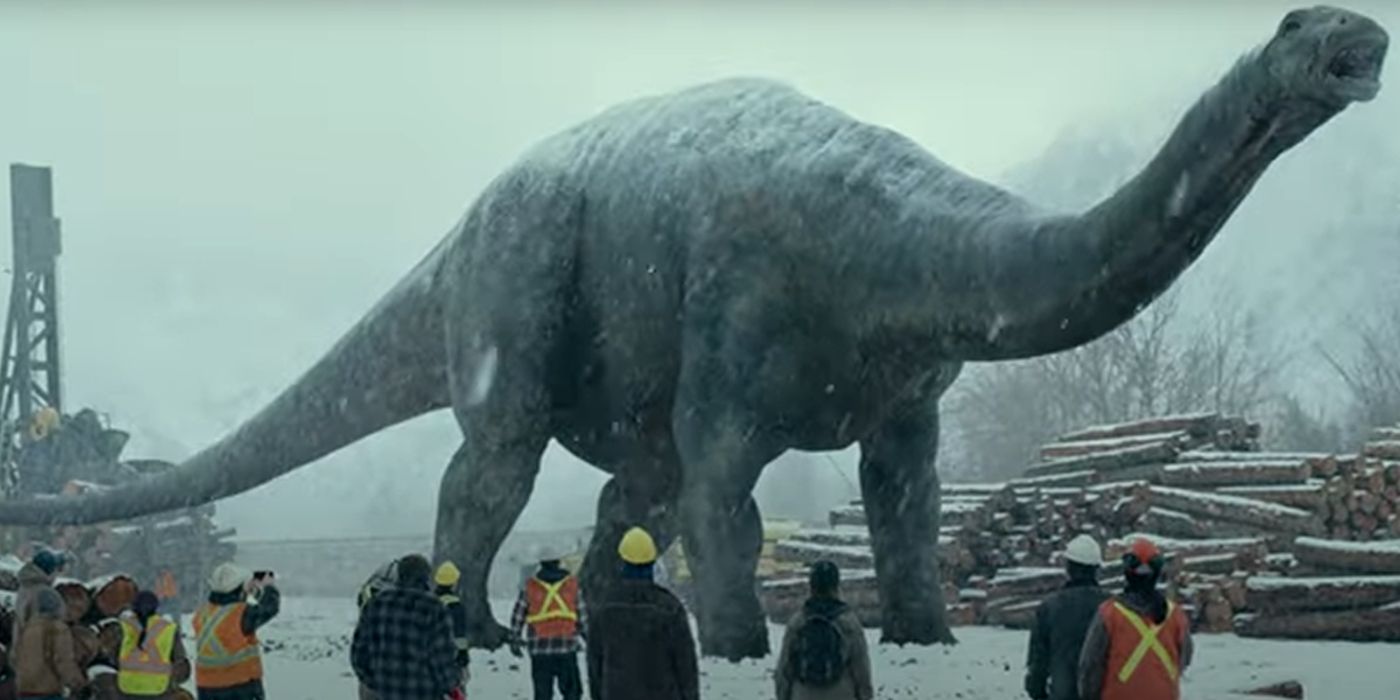 Unfortunately, the sad truth is that Jurassic World Dominion's core concept – the idea dinosaurs could coexist with humans at all – is something of a stretch. The core problem is that the world has changed a lot in the last 65 million years; it is much cooler, and ice sheets and glaciers still cover large portions of the poles. One scene saw an Apatosaurus calling out mournfully as it trudged through the snows; in reality, this particular dinosaur would never have encountered snow in its environment, and would not have been able to live in such cold conditions. Certainly there would not have been any dinosaurs that swam through ice-cold water. A new Jurassic Park would be needed just to keep the dinosaurs alive.
There is, however, one further element of this that's ignored by the entire franchise. Studies of air bubbles trapped in amber have revealed the atmosphere in the Cretaceous had oxygen levels of up to 35 per cent, compared to today's 21 per cent. Such thin air would make it impossible for dinosaurs to move at any real speed, and they certainly would not go to any altitude, where the air would be even thinner. But, of course, this problem would undermine the whole Jurassic Park franchise – explaining why Jurassic World Dominion ignores it.
More: BioSyn's Complete Villain History In Jurassic Park & ​​World Explained
Want more Jurassic World Dominion articles? Check out our essential content below …
Elvis Actor Perfectly Sings One of the Musician's Songs in BTS Video
About The Author