Jasprit Bumrah's catch to dismiss Ben Stokes was a talking point for the fans on Twitter today.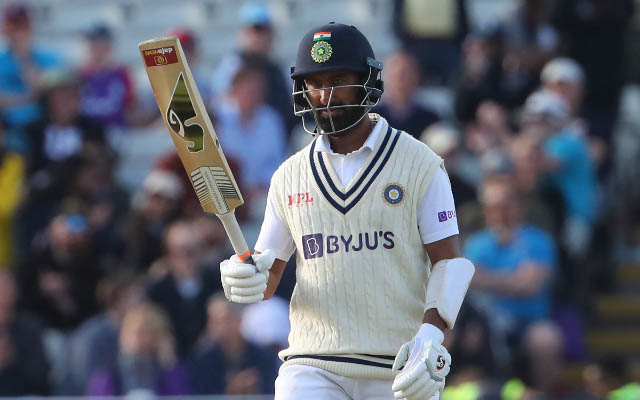 Jonny Bairstow dominated day two of the fifth Test match between England and India at Edgbaston on Sunday. The English batter hit a third consecutive century to deny a very big lead to the traveling side. He resumed day three with the same controlled approach he had on day two but changed his stance after a heated argument with Indian star Virat Kohli. Kohli tried to get under his skin with some sledging and Bairstow totally dominated Indian bowlers to score his fifth century of this year. England stumbled to just 284 runs in their first innings and India gained 132 runs lead with Mohammed Siraj taking four wickets.
But England veteran James Anderson removed Indian opener Shubman Gill on the third delivery of the second inning to get the hosts back into the game. Stuart Broad dismissed Hanuma Vihari on 11 runs to put England in a good position in the third session of the day. Former Indian captain Kohli and Test specialist Cheteshwar Pujara played some classic Test cricket and looked unbeatable.
Pujara stroked a valiant fifty
But English captain Ben Stokes shocked India by getting Kohli out on 20 runs. This was a big wicket for the hosts as the star Indian batter was looking dangerous to build up a big score. With India at 75/3, the first innings centurion Rishabh Pant came out, once again ahead of Shreyas Iyer. Pujara continued his inning with a similar controlled approach with no unnecessary shots. Pant resumed from where he left off in the first inning and stitched a good steady partnership with Pujara.
The veteran batter scored his 33rd half-century and completed 50 runs partnership for the 4th wicket. Day four ended with India scoring 125/3 with a solid lead of 257 runs.
India need to play minimum two sessions on day four to put up a big total on the scoreboard. England successfully managed to chase a 250-plus runs target against New Zealand in all three matches and they did that with an attacking approach. Indian management will be aware of their recent change in approach and will definitely instruct their players regarding this.
Many fans and former cricketers, including Virender Sehwag, reacted to Kohli-Bairstow's clash on Twitter. Jasprit Bumrah's catch to dismiss Ben Stokes was also a talking point for the fans on Twitter today.
Here are some Twitter Reactions to Day 3:
Jonny Bairstow's Strike Rate before Kohli's Sledging -: 21
Post Sledging – 150

Playing like a puja, Kohli slated to ban the Pant. #IndvsEng

– Virender Sehwag (irevirendersehwag) July 3, 2022
Bumrah batting, bowling, fielding, captaining. #IndvsEng pic.twitter.com/NKpECdOrBv

– Virender Sehwag (irevirendersehwag) July 3, 2022
Joe Root giving free hitting balls to pant.

Pant defending

Sam billing be like, keep throwing balls here only. He cant defend whole day root.

Why i love test cricket. Patience at peak.

Pant Pujara together are must watch partnerships. #INDvENG

– Dhruv Sharma (advdhruvsharma) July 3, 2022
What a catch by captain Jasprit Bumrah, redeems himself next ball with a splendid catch. Top class! pic.twitter.com/y9yuFdgGFw

– Mufaddal Vohra (mufaddal_vohra) July 3, 2022
What the hell 🤷🏾‍♂️, that was clearly not out. Matthew Potts was not out, the ball was clearly touching the ground and then Shreyas Iyer grabbed it.#INDvsENG | #ENGvsIND | #ENGvIND | #CricketTwitter | #TestCricket

– Paritosh Kumar (@ Paritosh_2016) July 3, 2022
Why do opposing teams keep making Jonny Bairstow angry lol, he gets 10x better.

Give him a gift basket each morning, let him know you're having his car valeted while he's batting. Anything to keep him happy

– Jimmy Neesham (@JimmyNeesh) July 3, 2022
Rishabh Pant continuing from where he left off in the 1st innings!
Taking India's lead above 250!
Stuart Broad's reaction is epic.
3#INDvENG #INDvsENG #ENGvIND #Edgbaston #Pujara #Pant #ViratKohli #BenStokes #Rahanepic.twitter.com/nRCT1iDgA7

– OneCricket (neOneCricketApp) July 3, 2022
England definitely not Virat Kohli's favorite place to bat in Test cricket:

Innings 31
Runs 1033
Average 33.32#Cricket #ENGvIND

– Saj Sadiq (ajSajSadiqCricket) July 3, 2022
Kohli v Anderson has been a great battle. But I find it amusing that we never mention the 3 series they have played in India.

Cos in England it's a 1-1.
Anderson won 2014.
Kohli won 2018.
2021-22 was a Tie.

PS: Test cricket in India is equally important #ENGvIND

– Wasim Jaffer (im WasimJaffer14) July 3, 2022
220+ runs ahead. Pujara s faced 106 balls at the moment. As much as the talk is of exciting batters in test cricket atm, the value of an innings like this shouldn't be underrated! #INDvENG

– Abhinav Mukund (mukundabhinav) July 3, 2022
This is compelling Test Match cricket, with some master craftsmen at work. Anderson is one several.

– Ian Raphael Bishop (@irbishi) July 3, 2022
The thing about this wonderful bowling attack India has is that all of them are wicket takers!
Bumrah and Shami are leaders of the pack for sure but Siraj & Shardul will chip in with wickets too.

– Sanjay Manjrekar (sanjaymanjrekar) July 3, 2022
To be fair it's remarkable how often India have beaten the edge or had chances out down this morning. Very unlucky.

– Ian Raphael Bishop (@irbishi) July 3, 2022
Has anyone ever played better over 3 consecutive Test matches .. Sure many have come close but I would argue jbairstow21 is top of the list .. #ENGvIND

– Michael Vaughan (icMichaelVaughan) July 3, 2022
He's on jbairstow21 3 pic.twitter.com/gF0xc8tJUA

– Chris Tremlett (ris ChrisTremlett33) July 3, 2022
This is great viewing! Jonny Bairstow doing a Rishabh Pant 6 #ENGvIND pic.twitter.com/X1eK9mbt4T

– Wasim Jaffer (im WasimJaffer14) July 3, 2022
Don't poke the Bear that is Johnny Bairstow again please …… ..

– Ian Raphael Bishop (@irbishi) July 3, 2022
Jonny Bairstow's Strike Rate before Kohli's Sledging -: 21
Post Sledging – 150

Playing like a puja, Kohli slated to ban the Pant. #IndvsEng

– Virender Sehwag (irevirendersehwag) July 3, 2022
Full length around 6-7 meters in the stumps. Have a field for a loafted shot to shut his aggressive instinct #jonnybairstow

– Irfan Pathan (rIrfanPathan) July 3, 2022