Sourav Ganguly, who retired from all forms of cricket in 2011, celebrated his 50th birthday on July 8.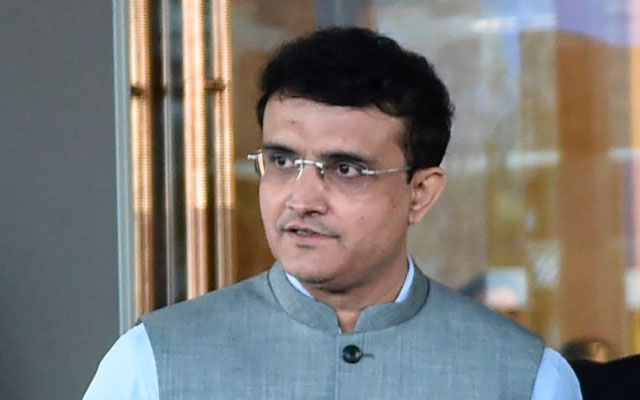 Former Indian captain Sourav Ganguly celebrated his 50th birthday on July 8, 2022. Ganguly, one of the most distinguished figures in Indian cricket still has a great influence in the game, albeit as an administrator as he is the current president of the BCCI.
During his playing days, Ganguly was the man behind conjuring up a combative Indian team that did not fear going toe toe with the very best in the game. The former Indian cricketer announced himself on the international stage with a match-saving century on debut against England in 1996 at Lord's.
The southpaw ascended to the leadership role after controversies surrounding the team during the 2000 match-fixing scandal and Sachin Tendulkar's decision to vacate the captaincy positions. It felt like the left-hander was born to lead the Indian side as his enigmatic personality drew the best out of his players.
One of the greatest moments of his captaincy stint came in 2001 when he annoyed Steve Waugh by arriving late for the toss on four occasions. His Indian team then halted the all-conquering Australian Test team's 16-game-winning run in Tests by completing a historic 2-1 series victory against Waugh's side. After the memorable victory against Australia, a young Indian side added a feather in the cap when they defeated England in the 2002 Natwest series final in dramatic circumstances, which evoked the former Indian captain's iconic shirtless celebration in the Lord's balcony.
In the same year, India got their hands on the ICC Champions Trophy after the final got washed out due to rain and the trophy was shared. Unfortunately, that was the only ICC event India won under Ganguly as India suffered a humiliating defeat in the 2003 World Cup final at the hands of Australia. The former batter had a great personal campaign in the tournament as he finished with 465 runs at an average of 58.12, including three centuries.
Regarded as one of the finest openers of all time, Ganguly established a formidable opening partnership with Sachin at the top of the order. But, after a drop in form and controversies with the then Indian head coach Greg Chappell, his career went into a tailspin, and soon after a disappointing 2007 World Cup campaign, he decided to step down from his international duties in 2008. The 'Prince of Kolkata 'finished with over 18000 runs for India and is considered one of the greatest personalities to have graced the cricketing field.
Here's how Twitter reacted:
Wishing SGanguly99 a birthday filled with love and happiness ❤️ May all the joy that you have spread to others come back to you a hundredfold. Have a blessed year ahead Dada #HappyBirthdayDada

– Suresh Raina🇮🇳 (@ImRaina) July 8, 2022
From a fine batsman to an outstanding captain & now leading indian cricket on the whole — here's wishing my favorite captain & mentor SGanguly99 a very happy birthday.#HappyBirthdayDada pic.twitter.com/Sx1l1lQZJS

– Mohammad Kaif (MohammadKaif) July 8, 2022
Many happy returns of the day, Dada SGanguly99 🤗 A great career on the field and now the heart and soul of CCBCCI, you have inspired many in your journey. Wishing you good health and a blessed year ahead. Lots of love! pic.twitter.com/q7orI1oPno

– Robin Aiyuda Uthappa (bbrobbieuthappa) July 8, 2022
Happiest Birthday Dada SGanguly99
Wishing you good health and serene birthday filled with endless blessings! pic.twitter.com/PSQi1bJsz7

– Shikhar Dhawan (@ SDhawan25) July 8, 2022
A great player, a superb leader, the CCBCCI President, and my captain. Wish you a very happy birthday SGanguly99, Dada 🤗 Have a wonderful year ahead. Love always! pic.twitter.com/Ejh33skeHG

– Harbhajan Turbanator (harbhajan_singh) July 8, 2022
A very happy birthday to a great leader, SGanguly99 🤗 Wishing you good health and happiness on your special day. Have an amazing year ahead! pic.twitter.com/q8nSqUcaMp

– cheteshwar pujara (@ cheteshwar1) July 8, 2022
Happy Birthday Dada! You've been a great friend, an impactful captain and a senior any youngster would want to learn from.

Wishing you good health and happiness on your special day 🎂 lots of love and best wishes always SGanguly99 #HappyBirthdayDada pic.twitter.com/SPEIVIXJcA

– Yuvraj Singh (YUVSTRONG12) July 8, 2022
One of the players who changed the face of Indian cricket forever.
Wishing you a very happy birthday Dada pic.twitter.com/U210p1oh6P

– DK (inDineshKarthik) July 8, 2022
Time to raise the bat, Happy 50th birthday SGanguly99 🎂 Wish you a healthy and prosperous year ahead pic.twitter.com/hN0BfvNnv7

– Wasim Jaffer (im WasimJaffer14) July 8, 2022
To the man whose 𝐃𝐀𝐃𝐀-giri on the cricket field keeps on inspiring generations – Happy birthday, SGanguly99!#HappyBirthdaySouravGanguly #HappyBirthdayDada #HBDSouravGanguly #HBDDada pic.twitter.com/ajydLMjiL7

– Star Sports (tarStarSportsIndia) July 7, 2022
Celebrated the 50th birthday of Sourav Ganguli.wishing him happy & healthy life ahead.SGanguly99⁩ ⁦sachin_rt⁩ ⁦JayShah⁩ ⁦CCBCCI pic.twitter.com/KBXbBajp3s

– Rajeev Shukla (ShuklaRajiv) July 7, 2022
𝙨𝙥𝙚𝙘𝙞𝙖𝙡 5⃣0⃣ 𝙩𝙝𝙚! ⁇SGanguly99 #HappyBirthdayDada #AmiKKR pic.twitter.com/FfcaSMS9Jo

– KolkataKnightRiders (@KKRiders) July 8, 2022
Indian Cricket
3
📏 (DADA)
3
3
📍 Sourav Ganguly

Super birthday to the Prince who ruled 🇮🇳🏏 with 🔥!#HappyBirthdayDada #WhistlePodu 3 pic.twitter.com/EXP4B53tMT

– Chennai Super Kings (henChennaiIPL) July 8, 2022
To the man who's 144 at the Gabba continues to remain one of my most favorite Test innings by an Indian overseas.

To the man who helped Indian cricket break countless shackles and earn a reputation

Happy birthday, Sourav Ganguly!

– KSR (KShriniwasRao) July 8, 2022
Many many happy returns of the day dada SGanguly99 🎉 Have seen ur video where ur dancing while celebrating, great to see that. Keep rocking and have a blessed year ahead #SouravGanguly pic.twitter.com/U3jmtmWOPv

– MANOJ TIWARY (@tiwarymanoj) July 8, 2022
You inspired some many people to take up the sport of cricket. Wishing you good health and happiness. God bless you. Happy birthday Sir SGanguly99 3 pic.twitter.com/FHqt9fexDP

– Kuldeep yadav (@ imkuldeep18) July 8, 2022
From donning the hat of #TeamIndia's Captain to BCCI President, your journey is an impeccable example of dedication and ascertainment. There is a lot to learn from this journey. Happy birthday grandpa SGanguly99. I wish you a happy next year. pic.twitter.com/yEz1NBBdWN

– Jay Shah (JayShah) July 8, 2022
Batted with grace. Led with passion. Happy birthday, Dada. 3#HappyBirthdaySouravGanguly | SGanguly99 pic.twitter.com/gCmPz1m7vk

– Rajasthan Royals (@rajasthanroyals) July 8, 2022
Happy 50th Dada! You've been a hero to millions, hope you stay healthy !!! Best wishes on your birthday SGanguly99 pic.twitter.com/A4sCqQhJgs

– Vikrant Gupta (ik vikrantgupta73) July 8, 2022
One of fin's finest captains
💥 left-handed batter

Here's wishing our very own Dada a very Happy Birthday

PS What's your favorite Ganguly memory from his cricketing days? 3#OneFamily SGanguly99 @ICC pic.twitter.com/v3xMch6OEs

– Mumbai Indians (ipmipaltan) July 8, 2022
Dada hits another half-century

Wishing the legendary batsman and current BCCI President a very Happy BirthdaySGanguly99 | PTI: PTI pic.twitter.com/b9seJEMu4v

– SunRisers Hyderabad (unSunRisers) July 8, 2022
Wishing a very happy 5️⃣0️⃣th birthday to Dada. May you have an amazing year ahead with great health and happiness. SGanguly99 pic.twitter.com/lYfVAks6md

– Jhulan Goswami (JhulanG10) July 8, 2022
Many happy returns of the day to the Dada of Indian Cricket and one of our greatest ever captains – SGanguly99 #HappyBirthdayDada pic.twitter.com/DM7SnnytH4

– Lucknow Super Giants (uckLucknowIPL) July 8, 2022
Birthday greetings to dada! Wishing you good health. SGanguly99 #HappyBirthdayDada pic.twitter.com/scqlRifPfp

– Pragyan Ojha (pragyanojha) July 8, 2022
Wishing you a very happy birthday, SGanguly99 sir. Hope you have a healthier and prosperous year ahead. 3#HappyBirthdayDada

– Mithali Raj (M_Raj03) July 8, 2022
To one of India's best Captains and forever the DADA of Indian cricket. Wishing you a very Happy Birthday SGanguly99 #HappyBirthdayDada pic.twitter.com/jjiB8XqT87

– S.Badrinath (s_badrinath) July 8, 2022
It's another half-century for the man who shaped Indian cricket for the better. 3

Wishing SGanguly99 a very happy 5️⃣0️⃣th birthday. 3

Have an amazing one, legend. 3#PlayBold #WeAreChallengers pic.twitter.com/HgZr6XNaMY

– Royal Challengers Bangalore (@RCBTweets) July 8, 2022